Borrowing
Card Information
Items may only be checked out to patrons who have their own library card in order for staff to access the account. When calling to inquire about an account, please have the barcode information readily available.
Hold Requests, Renewals, & Searching
The Tolono Public Library District offers a diverse collection, including fiction, non-fiction, periodicals, and reference materials as well as audiobooks, Wonderbooks, Launchpads, DVDs, and video games.
Many materials may be renewed up to two times, unless another patron has requested the item. You can renew your items by: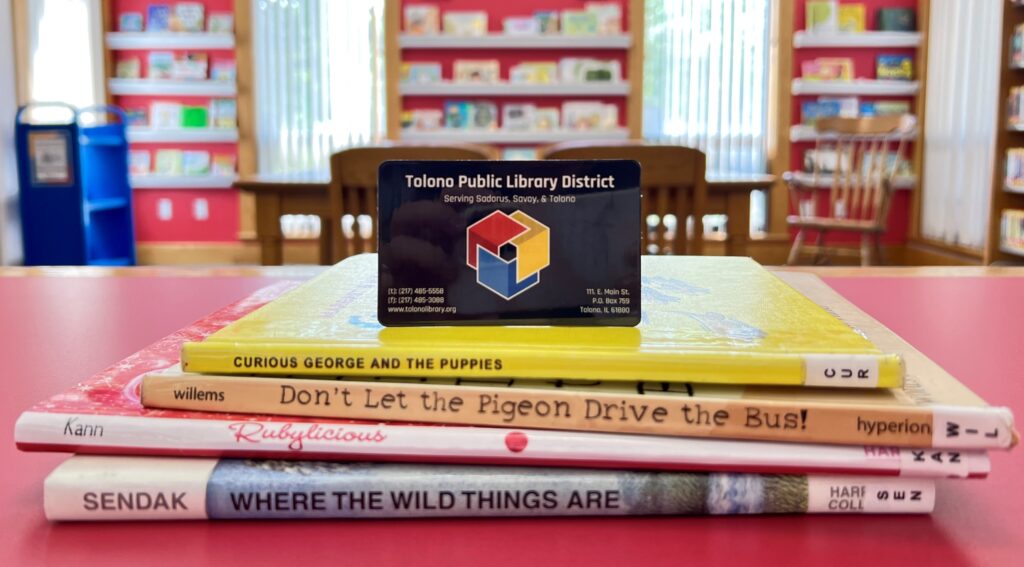 Borrowing Information
DVDs / Blu-rays / Video Games
Loan Period: Two (2) weeks
Renewals: 2
Books / Wonderbooks / Playaways / Magazines / Audiobooks
Loan Period: Three (3) weeks
Renewals: 2
Launchpads
Loan Period: Three (3) weeks
Renewals: 0
Drop Box Locations
We offer four locations for our patrons to drop off Tolono Public Library District items:
Sadorus: Drop box is outside the Post Office (123 E. Market St.)
Savoy: One drop box opposite the Fire Station near the Savoy Municipal Center (W. Tomaras Ave.) and one drop box at Carrie Busey School (Prairie Rose Lane)
Tolono: At the Library on the wall to the right of the main door (111 E. Main St.)
PLEASE DO NOT PUT DONATIONS IN ANY OF THE DROP BOXES!
Notice to Tolono Library Patrons
Tolono Library materials returned to the Champaign or Urbana libraries cannot be checked in and off your record until they reach Tolono Library; They use a separate automation system. This may result in fees being charged onto your account. Please drop your Tolono Library materials either at the Library or one of our drop box locations.